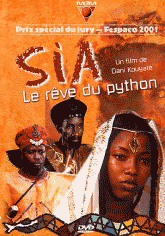 The DVD as well as video cassette VHS of film «Sia, le rêve du python» is available to the sale since September 5, 2004.
You can get these articles at the Médiathèque des 3 Mondes or of the FNAC but also near other specialized stores.
These articles can be ordered on the online shops of these companies.
---

Order the DVD at the FNAC
Details of the DVD:
Zone 2 - Pal Color
format 16/9 DTS stereo
Language OV bambara
Subtitle: french, english, spanish
Order the DVD at the Médiathèque des 3 Mondes


Details sur le DVD du film:
Zone 5 all zones - Pal Color
format 16/9 DTS stereo
Language OV bambara
Subtitle: french, english, spanish, german, italian